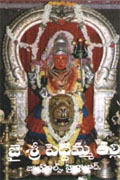 Vedas describe "Aarti" as a wondrous way to invoke the primordial energy and the supreme Lord. Performed during the Godhuli hours (the time when husky rays of the sun create a golden aura in the sky), or during the evening, when the sun is setting in and moon rising to its glory, Durga Aarti (better known as Sandhya Aarti) is an integral of Durga Puja. It is a beautiful way to honor and commemorate the Devi as she bestows her blessings on the devotees. According to the traditional Bengali custom, Durga Puja is incomplete without this Aarti and the subsequent homa (Sacred Fire ritual). The scene during the Sandhya Aarti is simply splendid and marvelous. Enormous drumbeats produce a unique musical rhythm, which resemble the ancient beat of Mahadeva and his Tandav dance.

These beats create an aura, which fills the heart of every listener with divine passion and lively ardor. Little children and married ladies the can be seen dancing to this beautiful Pagan beats played in honor of the Goddess.

Amidst this hullabaloos and orderly chaos, the priest reads the Sanskrit hymns and shlokas from Devi Mahatmya or Durga Saptashati. These immortal verses invoke the Goddess and her divine spirit as she dawns in this mortal world, re-establishing the victory of Good over Evil. The Aarti is peformed with the fragrant smoke of Holy Fire (Dhuni) and with incense sticks. The priest and the dancing woman, carry the small earthen vessels from where the holy fire is lighted and dance to the tune of drumbeats in front of Devi's idol.

The Aarti goes on for about an hour. Several families and devotees line up in front of the Maa Durga's idol celebrating the spirit of Durga Puja. It is a beautiful Holy way to invoke the Goddess and her blessings.