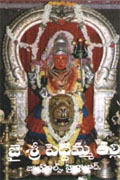 Durga puja is celebrated in the autumn months of September/October. According to the Hindu solar calendar, it falls on the first nine days of the month of Ashvin. Most of the religions follow either a solar calendar or a lunar calendar. For the Hindus, it is a combination of both. The days are counted on the basis of sun rise and sun set. But timings of all religious functions are based on the lunar month. The lunar month is divided into two halves, the full moon phase and the new moon phase.

Accordingly the religious functions of the Hindu Bengalis are scheduled in sync with the timings of the moon's movement, better known as 'Tithhi'. The schedule of Durga Puja is also framed on the basis of the 'Tithhi'. The Devi Paksha or the fortnight in which the Puja falls sets in with the auspicious of the Mahalaya, which falls on the New moon. Mahalaya heralds the homecoming of the Mother Goddess as the tunes of Agamani fill the air.

The four days of Pujas start from the sixth day of the full moon phase that follows the Mahalaya and ends up with the Dashami or the tenth day. Thus Dashami is four days short of the full moon night, called Kojagori Purnima. For, it is on this pious night the Kojagori Laxmi Puja is performed by most of the Bengali households.